Monday, April 24th, 2006
Jesus, crap! Denise Richards knocks one out of the park with this soon-to-be bestselling legal document. Revealed in her sworn declaration: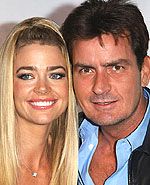 * Charlie Sheen is addicted to prescription pills like Zanex [sic] Norco, and Ativan.
* Sheen is addicted to gambling, losing up to hundreds of thousands of dollars at a time.
* Sheen is addicted to prostitutes and child pornography (both young girls and boys).
* Sheen is addicted to making death threats on Richard's answering machine.
* Sheen totally hates Mondays!
My favorite parts:
* Sheen cut his wedding photo in half and spray painted "the dumbest day of my life" on it.
* I asked him if he had taken an "aids" test.
* [Sheen] then told me to "go f–k myself" and turned around and stormed out the house.
* I begged him…not to particpate in prostitution at his house. He told me that it was "none of my business," that I am a "f–king c–nt"… He told me that he hopes I "get breast cancer and die" and "get cancer in my face and die."
That last one makes Sheen the official winner of Mad Magazine's annual Snappy Comebacks contest. The entire deposition is seventeen pages of "wow" from start to finish. it's the Danielle Steel of court documents. James Frey is busy plagiarizing it for his next memoir. It's funnier than Two and Half Men and deadlier than Platoon.