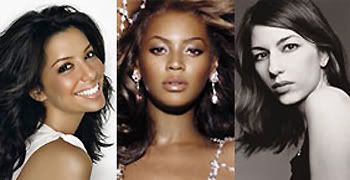 Contrary to previous reports, inappropriately-accented pop diva Beyoncé and desperate homemaker Eva Longoria are not playing lesbian lovers in an upcoming film directed by Sofia Coppola (who incidentally is also not joining in the non-existent hot lesbian action). As Longoria stated,
"Believe me, I would love to work with Beyoncé one day. She's so talented. But this is definitely not something we are doing together."
Believe us, Eva, we'd love for you to "work" with her "talents" one day, too (and by that we mean we'd like for you to have "sex" with her while we "watch").
A Beyonspokésperson also denied the rumors:
"This is not happening. We've never heard of this film."
He added, backing away, "The Pink Panther never happened, either. Or that Austin Powers crap. Beyoncé has never made a movie. You've never seen naked paparazzi photos of her. You don't know me. I was never here."
When reached for comment, the nation's penises responded flatly, "This is not happening."