If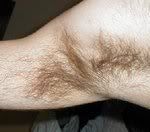 you had any illusions about the women of Hollywood being perfect unblemished examples of utter hottness, prepare to have your mind's eye jabbed out with a dull spoon by these quotes from a recent Hollywood Reporter breakfast:
"It's a miracle I'm here," said keynote speaker Maria Bello star of "World Trade Center," in describing her hectic morning as a multi-tasking mom during which she finally got around to "shaving two-week old growth" under her arms.
"I still have two-week old growth," quipped fellow "World Trade Center" star Maggie Gyllenhaal.
Others in attendance at the event included Meryl Streep and producer Stacey Sher. Notably absent? Boners.