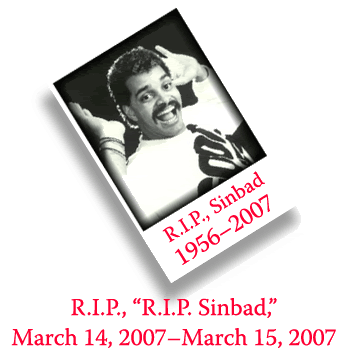 Well, after twenty-four hours of conjecture and rumors, the horrible news we've dreaded has finally come to pass. That's right—the rumor that beloved American comedy icon Sinbad is dead… is dead:
Despite rumors that comedian/actor Sinbad died in March 2007, the 50-year-old entertainer is alive and well. The misinformation that he passed away from a heart attack was merely part of a prank spread through a phony on-line biographic entry.
So although our cherished rumor has passed on, those of us left behind have a solemn duty to carry on with our lives, remembering the good times we had with the rumor, not its sad demise. For I believe the rumor would want us not to mourn, but to live joyously in the knowledge that it has moved on to a happier place, where the sun is always shining and Sinbad is always dead.
Goodnight, Sweet Prince.